PPF Select with Cap Technical Data Sheet
LEGEND® Select Paint Protection Film offers an ideal combination of protection against rocks, insects, sand, salt, and other hazards high gloss appearance and fast self-healing top coat. All these features are provided in an attractive economical package supported by an outstanding 5-year warranty.
Our standard offering – LEGEND® Select PPF protects your paint in virtually any climate zone and weather conditions providing the same ease of installation as other LEGEND® PPF product maintenance.
High Gloss and Clarity
Remarkable ease of installation
Exceptional scratch, mar and stain resistance
Great yellowing resistance
Fast Self-Healing Top Coat
Long-lasting gloss and cleanliness
Industry-standard 5-year limited warranty*
| | | | |
| --- | --- | --- | --- |
| Physical Properties | | | |
| Test | Value | Standard | |
| Tensile Strength | 8200psi | ASTM D882 | |
| Elongation at Break | 500% | ASTM D882 | |
| Adhesive Peel Force | 7.2-10.0 lbs/in | ASTM 3330 | |
LEGEND PPF Select (with Cap Sheet) Construction Details: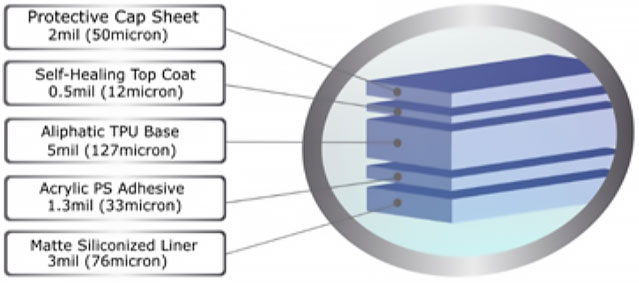 LEGEND® Select Fast Self-Healing Top Coat is formulated for a long-lasting, quick rebound from minor damage such as car wash scratches and scuffs caused by regular driving. Car surface with LEGEND® Select Paint Protection Film installed retains attractive smooth high-gloss appearance for years to come maintenance free.
LEGEND® Select Yellowing, Stain and Chemical resistance is provided by enhanced polymer matrix structure preventing surface staining, yellowing and darkening caused by water-borne contamination as well as contamination by oils, fuels, transmission, radiator, and windshield fluids. Also, LEGEND® Select Paint Protection Film is highly resistant to solvents, acids, bases, bug splatter, and bird droppings.
LEGEND® Select Longevity and Weatherability are proven by extensive QUV and Xenon testing allowing for industry standard 5 year warranty.
LEGEND® Select durability is tested by tensile testing as well as Gravelometer testing designed to evaluate the resistance of vehicle surface coatings to chipping caused by the impacts of gravel and other flying objects in accordance with SAE J400 standard. LEGEND® Paint Protection Film performs to the highest standards set by the market.