LEGEND® PPF RavenTM film protects your paint in virtually any climate zone and weather conditions while adding rich black appearance to car's roofs, mirrors and any other elements that you want to enhance and protect. Unlike PVC products that suffer from excessive texture, low gloss and low durability the self-healing and high gloss LEGEND® PPF RavenTM offers stylish, long term and easy maintenance protection.
Beyond film performance, LEGEND® PPF RavenTM series offer versatile installation suiting the most challenging curves while requiring no post-installation maintenance. Among notable benefits of this product are:
Rich Jet Black appearance (PPF Raven)
Remarkable ease of installation
Exceptional scratch, mar and stain resistance
Outstanding yellowing resistance
Self-healing Hydrophobic surface
Long lasting gloss and cleanliness
The perfect combination of longevity, durability and toughness
Excellent 10 year limited warranty
| | | | |
| --- | --- | --- | --- |
| Physical Properties |  |  |  |
| Test | Value | Standard |  |
| Tensile Strength | 8200psi | ASTM D882 |  |
| Elongation at Break | 450% | ASTM D882 |  |
| Adhesive Peel Force | 7.8-10.6 lbs/in | ASTM 3330 |  |
LEGEND® PPF Raven Construction Details:
Total product thickness is approximately 8.mil (~190 microns)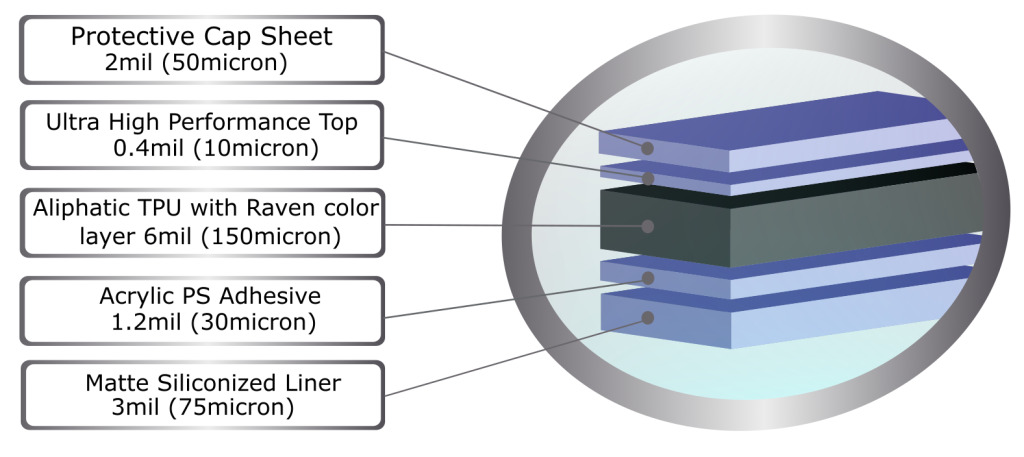 LEGEND® Self-Leveling Hydrophobic surface is formulated for long-lasting gloss retention. The minor scratches and mars caused by normal wear, such as car wash, are seamlessly eliminated over time. Our low surface energy of the topcoat prevents surface darkening caused by water-borne contamination. The car surface with LEGEND® Paint Protection Film installed retains attractive smooth high-gloss appearance for years to come maintenance free.
LEGEND® Yellowing, Stain and Chemical resistance comes as a result of careful formulation allowing our product to repel a wide variety of road-related contaminants such as tar, oil, transmission, radiator and windshield fluids. Also, LEGEND® Paint Protection Film is highly resistant to solvents, acids, bases, bug splatter, and bird droppings.
LEGEND® Longevity and Weatherability is a product of the collaboration of scientists and engineers, resulting in components that retain visual properties and performance for years to come. LEGEND® products are designed to meet most severe outside specifications for automotive, aerospace, transportation and heavy-duty requirements. LEGEND Paint Protection Film is tested by QUV and Xenon weathering, as well as high temperature and humidity exposure.
LEGEND® Chemical resistance is extensively tested by a variety of chemicals including harsh solvents such as Toluene, 2-Butanone, n-Butyl Acetate, Isopropyl Alcohol, and aqueous solutions of Hydrochloric acid, Sulfuric acid, and Sodium Hydroxide.
LEGEND® Durability is tested by tensile testing as well as Gravelometer testing designed to evaluate the resistance of vehicle surface coatings to chipping caused by the impacts of gravel and other flying objects in accordance with SAE J400 standard. LEGEND® Paint Protection Film performs to the highest standards set by the market.